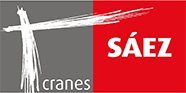 COMPANY



The first Sáez crane was built three decades ago. Since then the company has become Spain's leading manufacturer of tower cranes whose name is well-known at home and abroad.

Our work is characterised by innovation, the desire to improve the applications of our machinery and the aspiration to surpass what seemed to be unsurpassable. We build more than 20 crane models. These cranes combine successful solutions with the newest developments of technology, knowledge, materials and services.

Our manufacturing process complies with the most important quality standards, amongst others CE, ISO, IEC, DIN, FEM and UNE.

All our self-erecting and tower cranes have been awarded the TÜV-certificate.

The high standard that we want to fulfil is to help and to serve. Therefore we want to create the best because to create has always been the greatest dream of the human being.

To create the best machinery: more resistant and reliable, safer, more agile, stronger and easier to handle by the operator because the human being is at the centre of our company.



SÁEZ IN THE WORLD



SÁEZCRANES is a large company, present in the international markets. Our distribution network is spread over more than 30 countries and our outlook is one of a company facing up to the challenge of globalization. We have representatives elsewhere in Europe (France and Italy) and in America.

These representatives give us a close-up understanding of the needs of each country and its clients and help us to maintain a strong presence and to respond rapidly to demands for any sort of services. Each representative stocks an extensive range of spare parts so that delivery times and client costs are reduced.